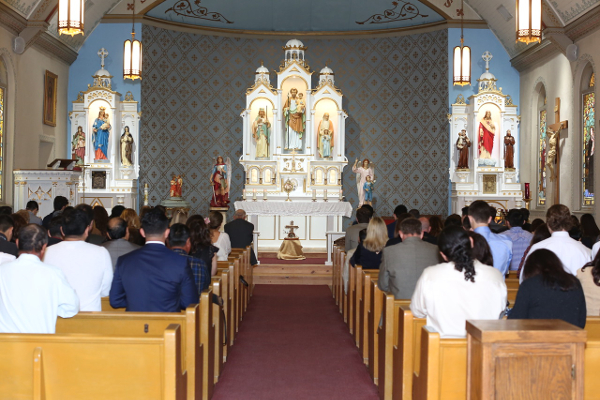 The Sacrament of Confirmation (9th - 11th grade)
Preparing for the Sacrament of Confirmation at St. Joseph Catholic Church - Honey Creek takes 18 months. The process begins by prayerfully deciding as a family if everyone is ready to continue this journey that began at Baptism. Families apply through our online portal. Should you have any questions during this process, please don't hesitate to contact Rick Zapf (Director of High School Faith Formation) or Marty Alonzo (Administrative Assistant for Confirmation). After your application is completed online, you will receive an email from Rick regarding the status of your application. You are encouraged to write both essays for the application before starting the application as this application CANNOT BE SAVED! ​The application is to be filled out by the parent & teen applying for the Sacrament of Confirmation. Applications can begin in 9th grade.
The Confirmation material is self-taught and self-paced at home.There is a $35 fee each year for the confirmation program. Your family will be assigned a Confirmation Mentor to help you continue to journey in faith together. A Confirmation Mentor is not your Confirmation Sponsor. The Parent Handbook has information about choosing a Confirmation sponsor and the form to be filed with the church.
Being an active disciple journeying towards Confirmation requires:
LEARNING FAITH - Teens can be actively enrolled in High School Faith Formation (Wednesday nights or Sunday Evenings).
GROWING IN COMMUNITY - Teens can support the community with Community Service (at least 20 hours each year).
PRAYING - Consider one of the many prayer opportunities at St. Joseph - Honey Creek.
LOVING GOD - Teens attend Saturday day retreat (both years) and the weekend retreat during Year II.
FOLLOWING HIS COMMANDMENTS - And most importantly, attend Sunday Mass.
Online Confirmation Service Hours Log
https://dynamiccatholic.com/confirmation/program-view
For those wishing to receive this sacrament, please go the following link for more information Faith Formation.
Adult Confirmation
We offer eight Sunday morning classes each fall for parishioners to be confirmed in the spring of each year by the bishop. Any questions please contact Charles Noll or ext 205.