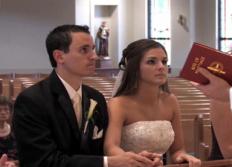 The Sacrament of Marriage is a sacred covenant between two persons and God. This relationship does not begin nor does it end on your wedding date. It is a lifelong relationship. Our parish is happy that you are considering getting married. Please begin with the following first steps. May God bless you with His love.
Couples seeking to get married at St. Joseph Roman Catholic Church—Honey Creek must begin preparation at least six months prior to the wedding date. At least one member of the couple to be married must be Catholic. Marriage classes will be required. Saturday Nuptial Masses/Marriage Outside of Mass will take place at 1:00, 3:00, or 7:00 p.m. as dates are available. Other days/times may be accommodated, but must meet with the approval of the Pastor.
To get married at St. Joseph at least one member of the bridal couple must meet one of the following requirements:
Be a registered parishioner.
Be an immediate family member of a registered parishioner.
Have a significant past heritage with this parish.
Live within the parish boundaries.
Those meeting one of the above-mentioned requirements, but not registered with St. Joseph-Honey Creek parish, must first obtain a Letter of Permission from the parish where they are registered. If they are not registered at any parish, a Letter of Permission must still be obtained from the church within whose boundaries they reside. The Letter of Permission must be acquired before meeting with the Pastor.
Couples seeking the Sacrament of Marriage should meet with the Pastor after any Mass.