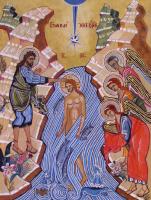 Holy Baptism is the basis of the whole Christian life, the gateway to life in the Spirit, and the door which gives access to the other sacraments. Through Baptism we are freed from sin and are reborn as sons of God; we become members of Christ, are incorporated into the Church, and made sharers in her mission: "Baptism is the sacrament of regeneration through water in the word."
Catechism of the Catholic Church (1213)
Go, therefore, and make disciples of all nations, baptizing them in the name of the Father, and the Son, and of the Holy Spirit, teaching them of observe all that I have commanded of you.
Matthew 28:19-20
Are you unaware that you died?
The Fruit of Baptism, or Baptismal grace, is a rich reality that includes forgiveness of original sin and all personal sins, birth into the new life by which man becomes an adoptive child of the Father, a member of Christ, and a temple of the Holy Spirit. By this very fact the person baptized is incorporated into the Church, the Body of Christ, and made a sharer in the priesthood of Christ.
Catechism of the Catholic Church (1279)
Baptismal Symbols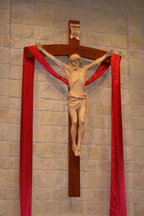 Sign of the Cross
The sign of salvation – the sign of a follower of Christ. Sign of community.

Renewal of Baptismal Vows
Our rejection of sin and our promise to lead the child to do the same.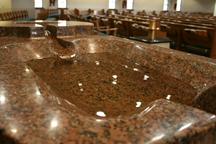 Water
Symbol of life. Symbol of the chosen remnant people in Egypt. God used water to save and cleanse His people.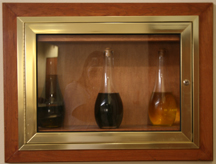 Oils
Used to anoint, cleanse and heal. And in the Scriptures to anoint priests, prophets and kings. The child is now a member of the royal priesthood.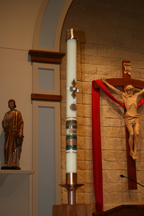 Candle
Sign of Jesus as the Light of the World, shattering the darkness of sin and death. Should be lighted each year on the anniversary of the baptismal date. This date should be remembered and celebrated as we do their natural birth date.